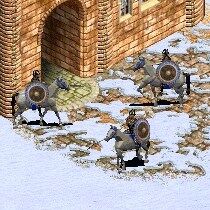 The Liv Auxliary is a militia lancer unique to the Teutonic Order. It can be classified in between the Militia Lancer and the Town Lancer as it moves faster and has more HP and slightly better bonuses than the first, but a weaker attack and armour than the latter.
Unit Statistics
Vital
Type: Militia Lancer
Available to: Teutonic Order
Available at: Guild Hall
Century: 14th
Cost: 80 Food 10 Florins

Combat
HP: 80
Attack: 7
Armor/Pierce Armor: 0/3
Range: Melee
Special: +9 vs cavalry, +3 vs archers, +8 vs priests. Has 15 armor vs. anticavalry units.
Upgrades
Attack: Forging, Iron Casting, Blast Furnace
Armour: Scale Barding Armour. Mail Barding Armour, Plate Barding Armour
Attack, armour, speed: Petite Ordonnance
Speed: Husbandry
Hit Points: Bloodlines, Popular Assembly
Training time: Indenture
Commentary/Strategy
Historical Background
During the 13th century, Livonia was colonised by the Livonian Order, an autonomous branch of the Teutonic Order, and many locals joined the Order armies over time fighting for wealth and an improved social position.